Top Features of the EF2000iSv2
Here is a brief look at some of the most popular features of the EF2000iSv2. The ones that make using and maintaining a Yamaha generator a simple pleasure. The ones that owners say convinced them to buy a Yamaha in the first place. The ones might that make owners of other brands just a little bit envious…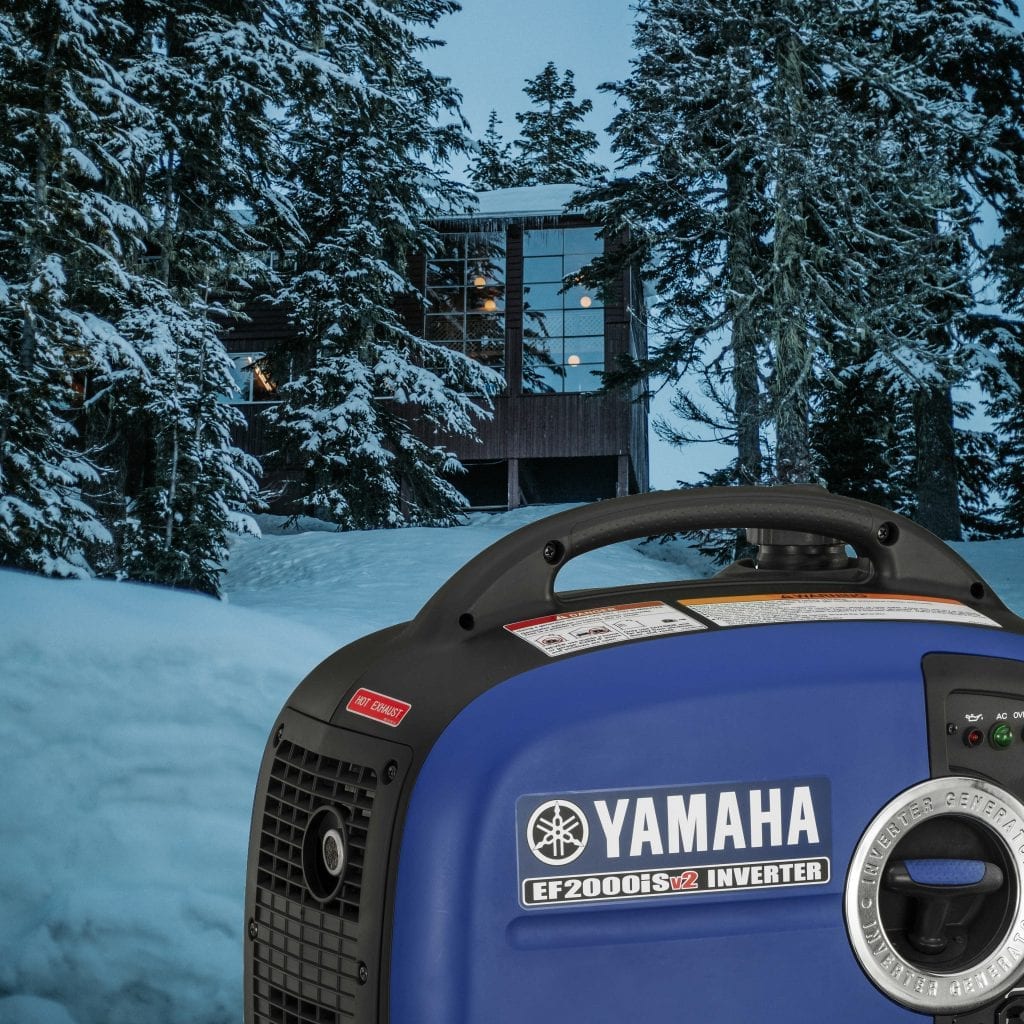 All-new Controller with Advanced Programming – Provides clean, high-quality power. The electricity generated by the EF2000iSv2, as represented by its pure sine wave, is as clean as or cleaner than the electricity generated by electric utilities, which means that you can run today's electronics, appliances and tools that make use of electronics and built-in microprocessors with complete confidence and peace of mind.
Engine Specs – 79cc OHV air-cooled, single-cylinder, 4-stroke engine with a cast-iron cylinder liner, and steel camshaft and valve train components, providing efficient, reliable power, excellent heat dissipation and long service life.
Fuel Petcock – Allows you shut off the gas to run the carburetor dry for storage and help prevent stale gas problems.
Fuel Gauge – Allows quick fuel level inspection without turning off the unit and removing the fuel cap. Easily see fuel level at a glance.
Compact and Lightweight with a Comfort Grip Handle – At just 44 lbs and 2.2 ft³, the EF2000iSv2 is truly the definition of "portable" – it's easy to place, move, transport and store, and the comfort-grip carrying handle takes it easy on your hands.
Smart Throttle™ – Automatically adjusts engine rpms in proportion to the load, improving fuel efficiency (the EF2000iSv2 will run up to 10.5 hours on one tank of gas at ¼ rated load) and reducing noise and engine wear.
Longest EPA & CARB Emission Engine Durability Ratings – Yamaha generators, including the EF2000iS and the EF2000iSv2, have earned the longest emission engine durability ratings issued by the Environmental Protection Agency and the California Air Resources Board.
TwinTech™ II / Sidewinder Parallel Operation – If you sometimes need extra power the EF2000iSv2 has you covered: a convenient parallel function lets you connect two EF2000iSv2 generators to deliver up to 30 amps (requires two generators and optional TwinTech™ II or Sidewinder parallel cable). The EF2000iSv2 may also be connected in parallel with an earlier model Yamaha EF2000iS.
Pulse Width Modulation (PWM) – Ensues that voltage stability is within ± 1%, and frequency stability is ± 0.1 Hz. The result is improved output characteristics in the 1600W – 2000W operational range so the EF2000iSv2 can power a much wider range of applications than the previous generation EF2000iS.
Yamaha's Most Technologically-Sophisticated Muffler – So quiet that you can have a conversation near an EF2000iSv2 and may not even realize it is running (51.5 dBA to 61 dBA – ¼ rated load to full rated load).
USFS-approved Spark Arrester – A required element of all engines used in off-road environments, the spark arrester removes errant sparks from the exhaust stream, drastically reducing the chance of accidental fires.
Overload Indicator / Protector (Breaker) – The overload indicator light comes on when an overload of a connected device is detected, the inverter control unit overheats or the AC output voltage rises. Then, the AC protector will trip, stopping power generation in order to protect the generator and any connected devices.
AC & DC Receptacles – The EF2000iSv2 generator features two 120VAC receptacles and one 8-amp 12VDC receptacle to charge car, boat or RV batteries.
Oil Watch Warning System – Prevents engine damage caused by low oil, minimizing down time and avoiding costly repairs.
Centralized Control Panel – Convenient access to all controls.
Rubber Vibration-Isolating Feet – The feet are specially designed to manage the natural vibration of the generator, providing substantially smoother operation and reduced noise.
3-Year Commercial / Residential Warranty – Factory warranty covers defects in materials or workmanship for 3 years from date of purchase under either commercial/industrial or residential/pleasure use.
Eligible for Yamaha Extended Service – Keep your Yamaha generator protected even after your warranty expires with Yamaha Extended Service (Y.E.S.).
What's In the Box (and what's not…)
First, what is in the box:
The EF2000iSv2 Inverter Generator
DC battery charging cables
Spark plug wrench
Quick-Start Guide
Owner's Manual
OK, so what's not in the box. Well, oil. You'll need about ½ quart of good quality motor oil before you can fire up your generator for the first time.
Many manufacturers give you a bottle of oil in the box, but for whatever reason Yamaha has chosen not to do so here. Kind of odd, maybe, but no big deal if you know about it ahead of time, right? Just head on over to our Accessories page to check out Yamaha's recommended Yamalube oil so you're sure to have some on hand when your generator arrives. Oh, and don't forget a funnel… and gas. 🙂